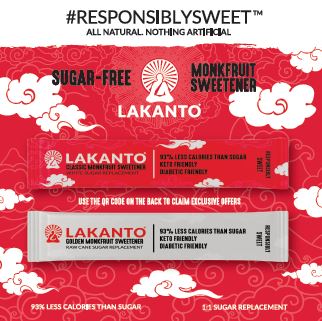 Lakanto Sachet Promotion
Lakanto Promotion Card with Sample Sachets
ABOUT THE PRODUCT
NUTRITIONALLY the same, but Classic and Golden have with a different flavour and taste. All natural, with no artificial colours or flavours. B

oth have 93% less calories than sugar.

CLASSIC is a white sugar replacement, that uses the white flesh of the monk fruit. It has a taste similar to white sugar.

GOLDEN is a brown sugar replacement, that use the white flesh, some seed and peel of the monk fruit. It has a malt taste.

A 1:1 SUGAR REPLACEMENT | Since 1995, Lakanto has blended high purity monk fruit extract and non-GMO erythritol to match the sweetness of sugar and make it an easy swap in your baking and cooking needs
ZERO Net carbs, Zero glycemic impact and Gluten Free

LIFESTYLE FRIENDLY | Keto, Diabetic, Gluten Free, Kosher, Candida, Paleo, Vegan, Low Carb, Low Sugar, NON-GMO, and All Natural

INGREDIENTS | NON-GMO Erythritol and Monk Fruit Extract | Natural Flavouring, NO Fiber, NO Maltodextrin, NO artificial sweeteners or flavouring. Stevia free.
DESCRIPTION 
Lakanto Monkfruit Sweetener are low calorie, zero glycemic sweetener that is just like sugar. It is made from Monk Fruit which was used for centuries in eastern traditional herbalism to increase chi and well-being, earning it the nickname "The Immortals' Fruit". We still grow and harvest Monk Fruit for LAKANTO® in the same pristine area and according to traditional and environmental methods.
IMPORTANT INFORMATION
Ingredients
Non-GMO erythritol and Monk Fruit extract